By: Lindsay Brim
December 29, 2016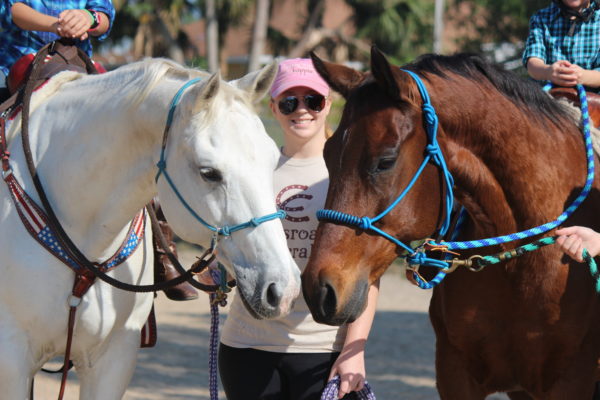 When reflecting on 2016, which is only year two of our organization, one word comes to mind: THANKFUL. We are thankful to have a passionate board of directors, committed volunteers, loving and giving donors who believe in making a difference, the Foundations who believe in our mission and provided us with our first generous grants, community partners who believe that working together to serve creates a larger impact, clients who are willing to step outside of their comfort zone and trust our team, our incredible mental health professionals and equine specialists and last but certainly not least, our team of therapy horses who constantly provide our clients with exactly what they need and speak directly to their hearts.
Another word that comes to mind when thinking of this year is EXCITING. I would love to share with you some highlights of 2016:
We were blessed to grow our team of licensed mental health professionals this year which means we can serve more clients in 2017! Meet our team here.
Beginning in March, to date we have provided 64 Equine Assisted Psychotherapy sessions to veterans suffering from PTSD, youth and women who have suffered trauma at no charge to them. We have also provided 20 Equine Assisted Learning sessions to youth in at risk situations at no charge
Receiving a grant is a big deal, especially for a young organization! Because of our hard work and the impact our organization has made, we were granted funds from The Florida Blue Foundation, The Robert Irvine Foundation and the Lawrence E. White Family Foundation this year to further our mission!
We grew our community partner network! We firmly believe that when organizations work together, we can make a greater impact and touch more lives. Meet our incredible community partners here.
We were blessed by The Home Depot Foundation with a $5,000 grant to improve our facility on behalf of the veterans we serve. We hosted the service project on Veterans Day along side of HBI and The Mission Continues and we received a completely renovated bathroom, 2 horse shelters, lights in our therapy ring, a big and beautiful flag pole, new lights and fans in our barn and rubber mats. This project would not have been a success without all of the organizations involved and we are eternally thankful!
We hosted some great family fun days on the farm with BASE CAMP Childrens's Cancer Foundation, The Mission Continues, Wounded Warrior Project and The Seminole County Sheriff's Office who responded to the Pulse shooting tragedy. These days are meant to bring families together to have fun and make memories. It's also a great way to educate others on our mission. We have several photo albums on our FB page!
Our Crossroads volunteer family came together and donated our own money to bless military families and youth in need for Christmas. Among our group we raised enough money to bless 3 youth in foster care as well as 3 military families this year!
As an organization, we grew by 74.2% this year!
There is still time to make those end of the year contributions! We ensure that your donation directly impacts our clients in need. As always, donations are tax deductible and you will be provided with a receipt. We also have an Amazon-wish-list-CRC if you would like to contribute something of need to our program. We appreciate your support more than you can ever know and hope you will join us in celebrating a wonderful year and all of the lives touched.
Bring on 2017! We are more motivated than ever to serve our clients and our community.
"One of the secrets to life is that all that is really worth doing, is what we do for OTHERS" –Lewis Carroll