About us
Crossroads Corral is a 501(c)(3) non-profit charitable organization based in Central Florida that provides Equine Assisted Therapy and Learning activities for active military members and veterans who suffer from PTSD, as well as youth and women who have suffered trauma, abuse and neglect.
Our mission is to promote personal growth, hope and healing through horses.
The Founders
Lindsay and Julie are two women with the same dream…to change lives through the use of horses.
Lindsay Brim (Executive Director)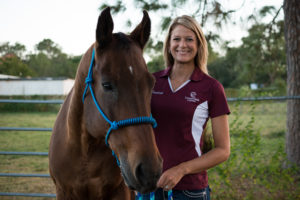 Lindsay Brim has two passions in life; horses and helping people. Horses have been an extremely important part of her life since she was eight years old. Her first job was cleaning stalls and taking care of 20 horses for free riding lessons as a young girl. Today, Lindsay owns 5 horses that she has loved, cared for and trained. She especially enjoys trail riding and going to horse shows every now and then.  Lindsay has always been passionate about helping others. She has a degree as a Physical Therapist Assistant and has spent many years working directly with patients to improve their quality of life, both physically and emotionally. She was also heavily involved in the Pennsylvania 4-H program as a member, volunteer and acted as a camp counselor and mentor with teens for many years. Today, Lindsay is a Seminole County 4-H leader. One of Lindsay's favorite quotes is "Horses carry the Wisdom of healing in their hearts and offer it to any humans who possess the humility to listen"- unknown.
Julie Hester (Board President)
Julie Hester's heart has always been focused on youth and horses.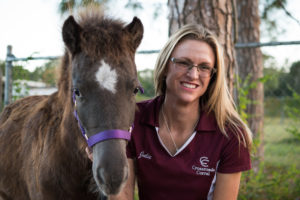 Since she was a teenager she had a calling to be led into youth ministry. She grew up participating in 4-H and learned the importance of Head, Heart, Health and Hands and how it can impact the community and world around her. After graduating, she came back and served as a Seminole County 4-H club leader and has continued to volunteer at 4-H for over 15 years. Julie has seen first-hand how interactions with horses have made a difference in youth development and in the building of life skills. Over the past 20 years she has gained experience in barn management, equine nutrition, horse transporting, working with problem horses and instructing youth to young adults in horsemanship and competitive riding. As well as owning and operating her own personal equine facility, she currently owns 6 horses which she has loved, cared for, and trained for over 10 years. She has had the privilege of working with dozens of riders, some of which she has assisted from age 10 through high school graduation, college and beyond. She believes in investing in lives more than anything else.
History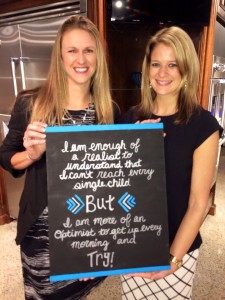 The seed of inspiration to begin Crossroads Corral was planted in the heart of Julie Hester. Julie, experienced in horsemanship and youth ministry, realized that she needed help to bring her vision into  existence. She teamed up with Lindsay Brim, an experienced business professional with a passion for horses and helping others to gallop down the path with her.
Julie and Lindsay received advanced training and earned professional certifications in equine assisted learning (EAL) and equine assisted pyschotherapy (EAP) in late 2014.
The two then co-founded Crossroads Corral in December 2014 and quickly gained speed.
Crossroads Corral opened their gates in April 2015.
To learn more about Crossroads Corral, get involved, or sign up for a session, contact us today.
Helping people heal and grow through horses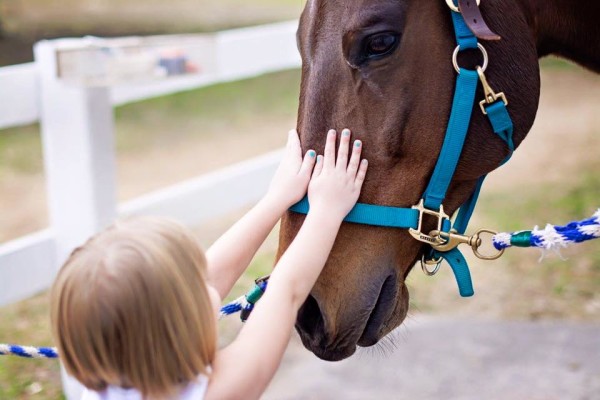 Individuals can participate in one session, or work through our recommended 4-8 week session curriculum. During each session, participants work with trained facilitators and horses to complete a series of experiential exercises designed to help them achieve meaningful results.
Participants can expect to build skills such as:
Communication
Trust
Teamwork
Decision Making
Creative Problem Solving
Leadership
And more.
Sessions are typically 45-60 minutes depending on the exercises and goals of the session. Learn more about our programs or Contact us to book your session today.