By: Lindsay Brim
November 24, 2016
On this Thanksgiving and every day, we are so incredibly thankful for our volunteers. Our volunteers are the backbone of our organization and we could not fulfill our mission without the wonderful people who are part of our Crossroads Corral herd.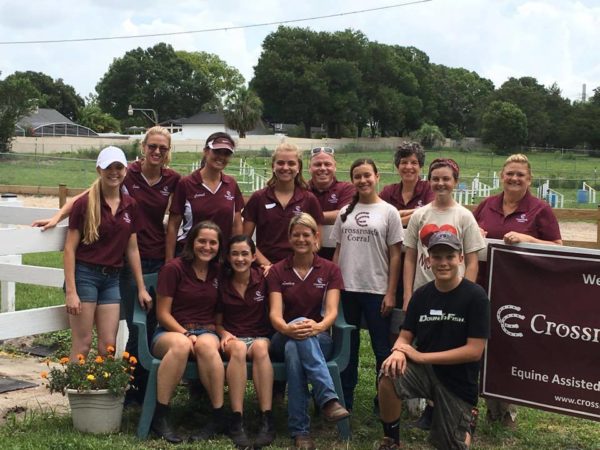 Currently, our organization is entirely volunteer run. This means, 7 days a week, twice a day, we have volunteers who care for our horses. This work isn't glamorous but it sure is fulfilling! We clean stalls/paddocks, feed, hay and water twice a day as well as turn the horses out in the field for exercise. They also help us to groom our horses and they are always willing to show them some extra love. We also have some great "farm Dads" who fix the fence, help us to take care of our equipment and can build just about anything. Our volunteers don't mind the physical work and everyone gets their hands dirty, literally.
We are so incredibly thankful to our mental health counselor, Kathy who volunteers her time at our farm to see therapy clients. Since March, we have provided 56 counseling sessions free of charge because of Kathy's willingness to volunteer! Our certified equine specialists that work alongside of Kathy to see clients also currently volunteer their time. We are so excited to welcome another licensed counselor to our team this year, Tracy Weiss!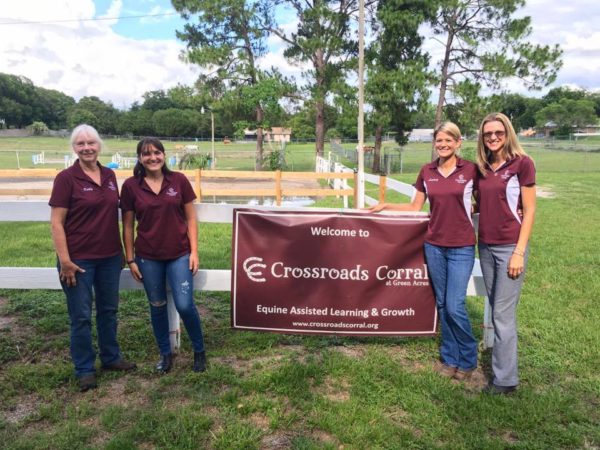 As part of our program we host numerous events for our community that we could not do without the help of our volunteers. This year we have hosted family days on the farm for the Mission Continues, Wounded Warrior Project, BASE Camp Children's Cancer Foundation and the Seminole County Sheriff's Office. We offer these events free of charge and our volunteers help to make these days so special for the families that come. We also host fundraising events to benefit our program and our volunteers are integral in making those events a success!
On this Veterans Day, we hosted a service project with The Mission Continues, HBI, Home Depot Foundation and Eckerd Kids-Project Bridge. I have never been surrounded by so many people who have such loving and giving hearts. We had about 60 people volunteering on the farm, working hard to improve our facility in honor of the veteran clients and families that we serve. The impact that they made left us in tears of joy!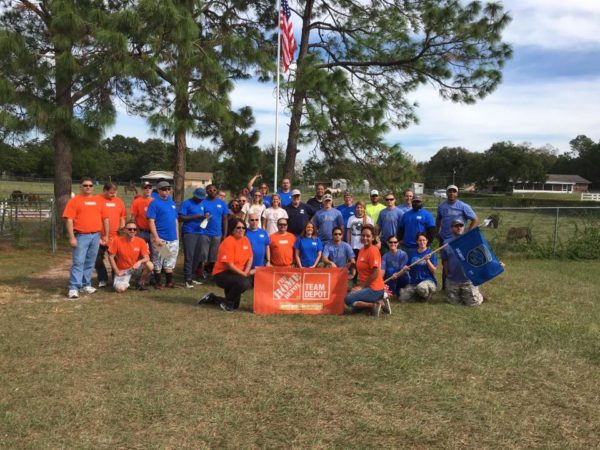 I must thank the incredible team at Brand Advance, a Creative Marketing Agency for volunteering their talented services for our website, T-Shirt designs, and marketing materials! This agency has made a huge impact for our organization.
Last but certainly not least, when it comes to our volunteers I must thank our dynamic Board of Directors. Our Board of Directors have full time jobs, families and obligations but they are always there to support our organization and the community we serve. They are helping to guide and lead this organization so that we can be here to fulfill our mission of promoting personal growth, hope and healing through horses for many, many years to come!