By: Lindsay Brim
December 28, 2016
This Veterans Day was one that will be cherished forever. We had the honor of working a long side of incredible veterans in our community as well as The Home Depot Foundation/Team Depot, Home Builders Institute (HBI), Eckerd Kids Project Bridge and The Mission Continues to complete a service project on our farm called, "Operation Equine Uplift".
This project was funded by the Home Depot Foundation/Team Depot and we received a generous $5,000 grant to greatly enhance our facility on behalf of the veterans we serve!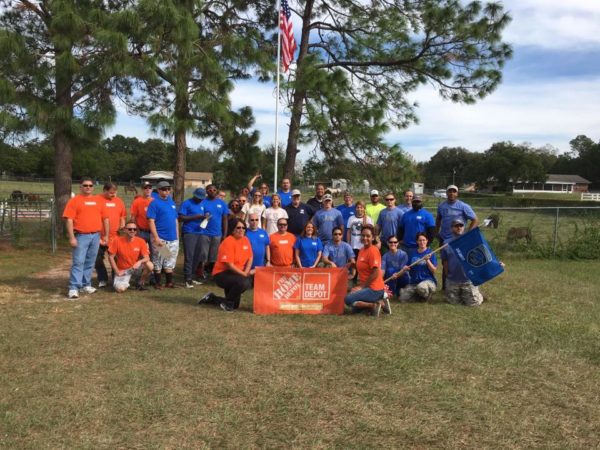 The projects consisted of:
Completely renovating our guest bathroom (inside and out). Before and after pics on our FB page: Crossroads Corral
Lights for our therapy arena
Two new horse shelters
Rubber mats for the barn
Ceiling fans and new lights for our barn aisle way
New wash rack fencing and flower boxes
Big beautiful flag pole and new flag
Construction of a new storage shed
This project would not have been possible without all organizations involved! A huge shout out goes to Melissa Geiwitz of HBI, Melvin Guzman of Eckerd Kids Project Bridge, Louie Morales of Home Depot as well as Daniel Kalagian of the Mission Continues Orlando 1st Platoon.
Learn more about their organizations here:
Home Depot Foundation
Home Builders Institute
Project Bridge
The Mission Continues
A huge THANK YOU to all of our veterans and youth of Eckerd Kids project Bridge who came out and worked so hard to improve our property! Not a day goes by that you are not thought of in appreciation!