Equine Assisted Learning uses horses as an instrument for personal growth and learning. Almost anyone can benefit from participating in these programs. The focus of EAL is working on the ground with horses to conduct experiential learning exercises. Our sessions typically last 60-90 minutes depending on the activities and goals of the session. Optimal results are obtained through participation over time. This being the case, we suggest participants take part in one of our programs below over a 4-6 week period.
We are also proud to offer Equine Assisted Psychotherapy. This model of therapy is a collaborative effort between a Licensed Therapist and equine specialist working with clients and horses to address treatment goals.  When engaging in the activities with horses, participants do not feel like they are involved in a therapy session.
Crossroads Corral Youth Development Programs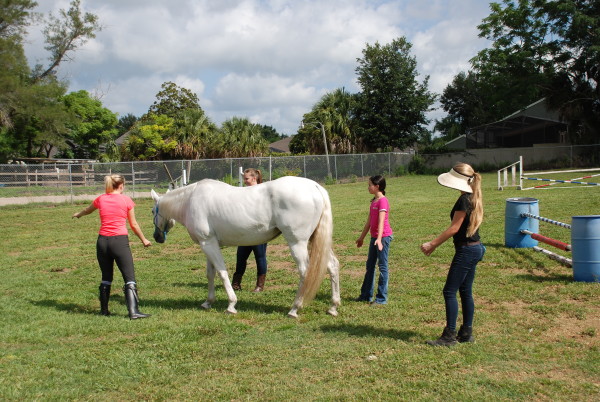 Our youth programs focus on working with youth ages 7-18 to develop strong, confident, and responsible leaders by engaging in fun activities with the horses. Horses can teach youth about healthy communication, relationship building, boundaries, assertiveness, responsibility, teamwork, work ethic, and problem solving.
Experiential and creative activities with the horses help the child actively engage and gain a desire to learn. Horses naturally help to break down barriers and give instant feedback to the child about their behavior. Caring for horses teach children about responsibility and also naturally gives them a sense of accomplishment and builds confidence.
We can provide individual or group sessions. We also work with schools to implement after school programs or workshops. For group sessions we prefer groups no larger than 8 participants to maintain a sense of intimacy for learning.
Our organization also specializes in working with children in at risk situations. We have curriculums specifically designed for at risk youth including, youth suffering from eating disorders, young women ages 11-15 that focus on common issues for this population, dis-engaged learners at risk for falling behind in school, court ordered youth and more.
---
Programs for Active Military, Veterans & Their Families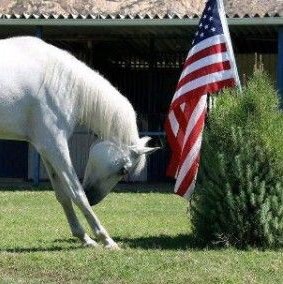 The Crossroads Corral team works with active military, veterans and their families to assist with reintegration back into the community after war.
Our programs focus on improving emotional health and assist individuals with:
Coping skills
Anger management
Reducing depression
Readjustment into their family "herd"
Reducing self-destructive behavior
Improving communication
Increasing self-awareness
Horses are ideal teachers in this work as they have successfully survived predators for centuries, thanks to their natural survival skills and behaviors.
---
Our team at Crossroads Corral maintains a high degree of professionalism and promotes continuing education. Our Equine Specialists and Facilitators are certified through the O.K. Corral Series in Equine Assisted Learning and Psychotherapy. Although we are not clinical psychologists, we can provide adjunct therapy for mental health professionals who want to partner with us to accomplish "breakthroughs" with their clients.
Equine Assisted Learning provides a unique opportunity to experience personal growth and learning outside of the comfort zone.
"A comfort zone is a beautiful place, but nothing grows there"- Unknown